ECCO KIDS
In ECCO (Experience Community Children's Outreach) we strive to form meaningful Christ-centered relationships with kids from 6 weeks old to 5th grade. Our mission is to guide kids to the light of Christ through love. We focus on teaching the Gospel, praying, and worshiping God together. Through our curriculum (The Gospel Project) each student who attends ECCO starting at age 3 will go through the entire Bible three times before graduating to our middle school ministry! While here, kids get to engage with the Bible through small group time, prayer, song, dance, and a short video. Volunteers are screened before being allowed in classrooms and attend teacher training each year. We do not require teachers to have prior experience, just a love for Christ and kids!
ECCO resources
We are continuing to provide digital lessons you can do at home with your kids! Each week we will be posting new lesson videos and downloadable prayer outlines so you can disciple your children in their relationship with Christ! Check out all of our ECCO Kids Resources on our app! Select More > Discipleship Resources > ECCO Parent Resources.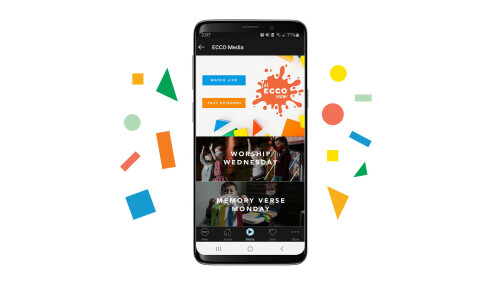 Ecco media | download our app
Don't miss a beat! Watch past episodes of the ECCO Show, Memory Verse Mondays, and Worship Wednesdays that your whole family will enjoy!
Download our app click Media > ECCO Media to have full access.
download on apple download on Android
Volunteer with ECCO
We are expanding our capacity and we need your help! ECCO simply cannot happen without people like you! If you are interested in volunteering with ECCO please fill out the form below!
FOLLOW US
YouTube | ECCOKids